Doktoranden Amineh Ghaderi har publicerat sin doktorsavhandling med titeln "ROR1 − a druggable target : preclinical studies of ROR1 and combinatorial partners in malignancies". Följ denna länk för mer information om avhandlingen.
Amineh har utfört sitt forskning vid Institutionen för onkologi och patologi på Karolinska Institutet i samarbete med Kancera.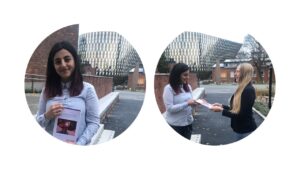 Amineh Ghaderi överlämnar sin avhandling till Jemina Lehto, PhD, Scientist at Kancera.
Tillbaka